Hi my lovely Dark Creatures!
As stated on my newsletter, I recently made my TTRPG Performance Debut as Ophelia Click, archivist and poison-enthusiast extraordinaire, in the Masks of Nyarlathotep, a globe-trotting 7th Edition Call of Cthulhu adventure from Chaosium Inc.
You can view the full 2-hour episode of the Prologue recently uploaded to Youtube below!
Be sure to look out for new episodes each week streaming live on the Gehenna Gaming's Twitch on Fridays at 8 PM EST! Me and the cast will be in chat watching along with all of you!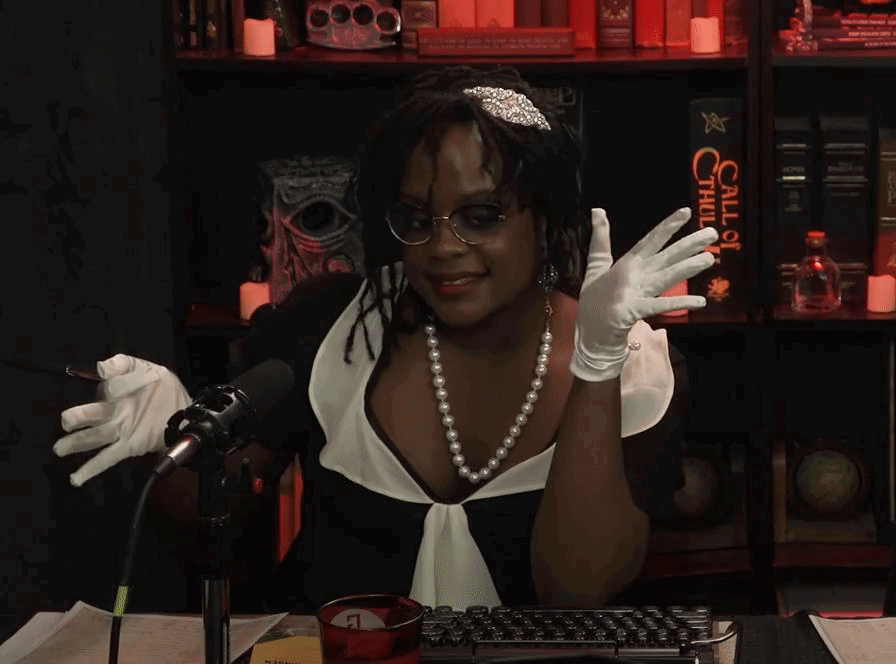 ---
Writing News:
I recently wrote 964 words of THE TALES OF SINNER SHARPE: BLOOD REIGN and am enjoying continuing the story. I've finally gotten the crew out of Clasos and on the road to their greater journey (and tied up a blood feud between Sinner and Dagger, as well as explored a bit more on Dagger's past [as my readers really loved him in the first book!])
I am thinking of writing a short story in the universe of SINNER SHARPE, but I'm deciding what or who I'll focus on for an extra glimpse into the world if there's interest (let me know in the comments). But I'll have more information on that in the future. It should go up on my Patreon if I'm not too busy in the coming weeks or months.
---
What I'm Reading:
I am reading an interesting epic fantasy novel it's really sparked my love of writing again. If you're reading this elsewhere, it's The Empire's Ruin by Brian Staveley. I'm loving it so far. It's fast-paced and the story, interestingly enough, starts with action and not an exposition. So it's interesting what gets published (as I was told people need expositions to get into a story). This only strengthens my conviction that one should write the story they want to and keep marketing their brand any way they can to get more readers.
---
Introducing Author Spotlights!
Check my newsletter for Writer Spotlights! This month, it was Briana Morgan, author of numerous horror novels and short stories. Her YA mystery, LIVINGSTON GIRLS, is coming out November 14th, 2023 via TikTok's new imprint 8th Note Press!
"We have to keep fighting. When witches don't fight, we burn."
Livingston Girls is a fast-paced and witchy coming-of-age mystery full of found family and queer discovery, for fans of Wednesday and These Witches Don't Burn.

There's a place for troublesome girls from Salem, Massachusetts: Livingston Academy. When 16-year-old Rose's relationship with her English teacher is exposed, her community mourns his reputation and she's the one banished to the infamous boarding school

Ashamed and hoping to keep her past under wraps, Rose is surprised to learn she's not the only one with a secret: Livingston Academy was founded by the survivors of the Salem witch trials--and their successors still practice magic in secluded dorm rooms and the woods outside the school grounds. When Rose falls in with the strange and rebellious group of girls that make up the Livingston coven, Rose gets an offer to join that she can't refuse. Soon she's part of a hidden world of whispered spells, charms, summonings, and sisterhood.

But there's a darker side to becoming a witch--there will always be powerful men who resent and envy a witch's abilities. When the headmaster of the nearby boy's school is revealed to be a witch hunter eager to claim the power of the Livingston coven, Rose and her new friends must fight for their very survival.

And Rose might have an even bigger problem. She can't keep her eyes off her prickly coven and roommate Charlie. Will she master her power in time to save the school or will her crush prove a deadly distraction?
Please be sure to check it out when it's available, and it's on NetGalley now!
That's all for now! I'm off to continue writing and being super busy!
With Blood and Love,