So The Dark World's Giveaway on Goodreads has been completed, the winners chosen, the books shipped, and I'm still marveling at the fact that 657 people requested a copy. Mind is boggled. Still, I'm taking it all in stride. 🙂
The Immortal's Guide, originally intended for release this Halloween has been pushed back to November 10th, simply because College and work and other activities has kept me from editing and finishing it up as I should.
The Giveaway for TIG has always been pushed back from October 30th, and is now going to be ending Nov 9th. Enough time, I think, to make it all work as it should. 🙂
That said, I've created new business cards and bookmarks for the books and they are as follows: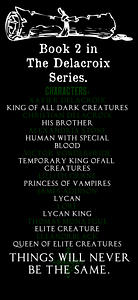 Keep your bite.
-S.C. Parris